White Mountain Forest
Airdate:
Aug 25 2013 —

Episodes:
N/A
Authors/Creators:
Heptagram Leader
Host:
Nelly Stellaris
Winner:
N/A
Runner-ups:
N/A
The Killer:
N/A
Out in the woods...
"
Wanna join a trip to the bloody forest ? Just follow the trail.
"

— message from The Killer

What if Whodunnit? happened outdoors from the very start to the very revelation of The Killer? Is it less exciting? Is it impossible for The Killer to come up with new ideas days after days? Or would it turn to real horror mixed with some dramatic arguments and doubtfulness towards each other? Or it's just simply a vacation with restless adventure...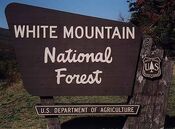 Much like the original, but this time the numbers are up to 15. But still, The Killer makes sure he/she will reduce it down to 3 or LESS. The guests can stop fancy living in fantastic estate and put their backpacks up on trip to the exotic wilderness of White Mountain Forest, Maine, and feel themselves caught in climatic crimes committed by the masterful killer lurking amongst them.
Meet The Players
Edit
Below is the list of players as well as suspects and... well, the first victim, of course, competing for $250.000 in the wilderness of Maine:
Alexander the computer technician, seemingly incompatible with the woods.
Brianna the fashion designer, she surely knows how to treat damped dress.
Daryl the police officer, a newbie to be exact.
Drake the high school teacher, wishing surviving the wilderness was part of his curriculum.
Erin the party planner, yet to get drunk, maybe she hasn't tried moonshine yet.
Garrett the mail deliverer, maybe his biking skill helps him off his beaten tracks.
Isabella the musician, hoping to find her new inspiration here.
Kevin the scientist, sounds cool huh?
Naomi the translator, thinking she'll never have to lend the forest to her translating skill.
Maria the nurse, caring for the people before and after their lifespan.
Rachel the firefighter, watch out, she could crash your night camp with her hose.
Scaruffi the poet, romantic yet eccentric.
Tiffany the babysitter, she's good at sitting toddlers, is she really good at sitting the adult?
Travis the bartender, he might come up with a new drink, pine-co, perhaps?
Zarek the writer, what's really in his scrambling mind is unbeknownst to the others.